General Info
| Make: | Fluke |
| --- | --- |
| Model: | 117 |
| Serial: | 31970122WS |
| Manual: | Manual |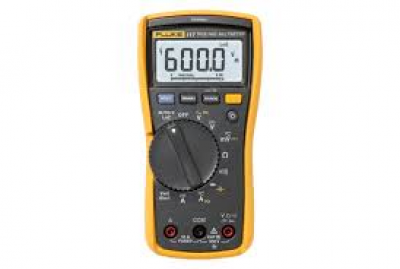 Usage
The 117 DMM True-RMS is an AC and DC voltage, 6000-count resolution, min/max/average capabilities, frequency, and capacitance meter. It includes VoltAlertTM technology for integrated non-contact voltage selection, AutoVolt feature provides automatic AC/DC voltage selection. Low input impedance prevents false readings due to ghost voltage.
Maintenance
No Maintenance Required for this tool. See Shop Lead if probes become cracked or otherwise compromised.
If fuse for current reading has been blown replace with Fluke Fuse PN 803293
More Learning
Supporting Equipment
Equipment Status
For availability and current status of this equipment, please see [Tools Inventory on old wiki] (https://generatorvt.com/wiki/doku.php?id=tools_inventory), or the parent area under which this tool is maintained.
Primary Consumables
None