General Info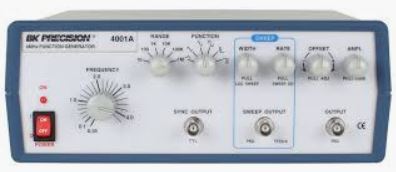 Usage
The 4001A generates sinusoidal, triangular, ramp, square, and pulse waveforms.
The frequency is settable from 0.5 Hz to 4 MHz. The signal amplitude can be adjusted from 0.2 V to 20 Vpp with no load conditions and 0.1 V to 10 Vpp with a 50 ohm load termination.
The MAIN output has the provision of SYNC output signal (TTL level) when selected.
The sweep generator offers linear or log sweep with variable sweep rate and adjustable sweep width.
Maintenance
Notify shop lead if not functioning properly.
More Learning
Supporting Equipment
| Tool Type | Make / Model / Link |
| --- | --- |
| BNC Breakout to Alligator Clips | Model CC-21 (accessories tab) |
| Function Generator Test Leads Set | Model TLFG (accessories tab) |
Equipment Status
For availability and current status of this equipment, please see Tools Inventory , or the parent area under which this tool is maintained.
Primary Consumables
NA