Hey All!
I wanted to be sure folks saw that the ONE (Old North End) World Market that's scheduled to take place on July 31st from 11AM - 3PM is looking for vendors in case anyone in the community is interested!
See information about the market, flyers for the event, and more info on how to apply below!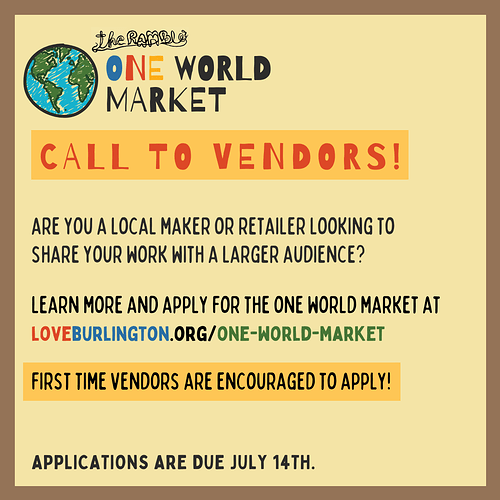 The ONE World Market
is an annual event that takes place during the Old North End Ramble festival. Each year, the neighborhood celebrates the community with an array of events throughout the ONE. The ONE World Market brings together local musicians, chefs, artists, makers, and small retailers to share their food, work, and music with the community. This year, the Juniper Creative team will be joining us as they create a new mural for the community with the help of you all!
Join us this year on July 31st from 11am to 3pm outside at the Old North End Community Center on 20 Allen St, Burlington, VT.
Vendor Application Link: https://loveburlington.org/one-world-market
Cheers!!!