General Info
| Make: | Good Will Instrument Co., Ltd. (GW Instek) |
| --- | --- |
| Model: | GPC-3030DQ |
| Serial: | 9061521 & 9061500 |
| Manual: | User Manual |
| | |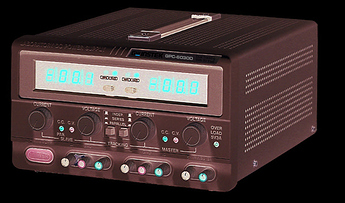 Usage
The Instek GPC-3030D is a triple output, 195W, linear DC power supply. Channels 1 and 2 are fully adjustable(0-30V series, 0-60 parallel). Channel 3 is a fixed 5V/3A with ripple and noise at less than 2mVrms. Overload and reverse polarity protection keep GPC-3030D and its load safe from unexpected conditions.
Maintenance
Fuse
If the fuse blows, the CV or CC indicators will not light and the power supply will the not operate. The fuse is located on the rear panel. Disconnect power cord before replacing fuse. Replace with T6.3A 250V fuse only.
If blown for any reason contact the shop lead.
More Learning
Supporting Equipment
N/A
Equipment Status
For availability and current status of this equipment, please see Tools Inventory , or the parent area under which this tool is maintained.
Primary Consumables
| Consumable | Part Number | Product Link |
| --- | --- | --- |
| Fuse | T6.3A 250V | Supplier Link |