General Info
| Make: | Hakko |
| --- | --- |
| Model: | FX-888D |
| Serial: | 05 8883 1306 3674, 05 8883 1400 6004 |
| Manual: | User Manual |
| | |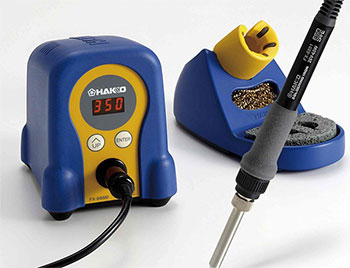 Usage
The 70W Hakko FX-888D is an updated digital version of the popular FX-888 and includes several new features. User selectable preset temperatures and digital calibration simplify user setup and operation, and the new low temperature alarm provides process control and helps protect against cold solder joints.
Maintenance
Tip Care
Set Temperature to 250°C (482°F)
Using the wetted sponge clean the tip until shiney
If it does not clean apply solder containing flux to the tip and repeat cleaning
When done with soldering apply a small amount of solder to the tip prior to turning off
If deformed or heavily corroded see shop manager
More Learning
Supporting Equipment
Equipment Status
For availability and current status of this equipment, please see Tools Inventory , or the parent area under which this tool is maintained.
Primary Consumables